Summer (break) is over! I spent the past two weeks crossing borders – for the first times in over 18 months – to participate in small bubbled-and-tested events. Including a KDE get-together, where Aleix took a decent picture of me channeling my inner daemon.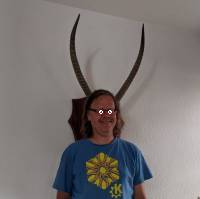 Meeting KDE people again was a lot of fun. Actually sitting at a table together makes a big difference in understanding each other. Arjen and David pushed and prodded me to do some KDE System Monitor work for FreeBSD, which has now landed upstream. Aleix and I talked about Calamares in OEM mode. Harald complained about a lack of coffee. Leinir introduced me to Schwip Schwap, which seems like a terrible idea but isn't.
Currywurst-flavored potato chips, though, remain a terrible idea.
Upcoming work-work and KDE-work things:
A new Calamares release looms; while the month of august was mostly vacation, I also merged in some bugfixes and a new feature (with tests!) that should trigger the ol' short-cycle release script.
Chasing KDE software releases in general and testing KDE System Monitor some more. There is definitely a need for more FreeBSD backend code. Gleb has written a bunch of that kind of backend stuff, but it needs more.
Returning to some of my stalled MR's in CMake (stalled because I got distracted by other things).
Thinking of something silly to do for KDE's 25th anniversary.
You can participate in that last item, too, on October 14th 2021.