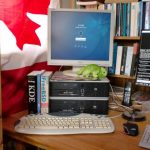 My project for Blue Systems is maintaining
Calamares
, the distro-independent installer framework. Not surprisingly, working on it means installing lots of Linux distro's. Here's my physical-hardware testing setup, which is two identical older HP desktop machines and a stack of physical DVDs. Very old-school. Often I use Virtual Box, but sometimes the hum of a DVD is just what I need to calm down. There's a
KDE Neon
, a
Manjaro
and a
Netrunner
DVD there, but the machine labeled Ubuntu is running
Kannolo
and sporting an openSUSE Geeko.
I'm all for eclecticism.
So far, I've found one new bug in Calamares, and fixed a handfull of them. I'm thankful to Teo, the previous Calamares maintainer, for providing helpful historical information, and to the downstream users (e.g. the distros) for being cheerful in explaining their needs.
Installing a bunch of different modern Linuxen is kind of neat; the variations in KDE Plasma Desktop configuration and branding are wild. Nearly all of them have trouble being usable on small screen sizes (e.g. the 800x600 that Virtual Box starts with -- this has since been fixed). They all seem to install Virtual Box guest additions and can handle resizes immediately, so it's not a huge issue, but just annoying. I've only broken one of my Linux installs so far (running an update, which then crashed kscreenlocker, and now it just comes up a black screen). I've got a KDE Neon dev/unstable as my main development VM set up, with KDevelop and the whole shizzle .. it's very nice inside my KDE 4 desktop on FreeBSD.
I've got two favorite features, so far, in Linux live CDs and in KDE Plasma installations: ejecting the live CD on shutdown (Neon does this) and skipping the confirmation screen + 30 second timeout when clicking logout or shutdown (Netrunner does this).
So, time to hunker down with the list of issues, and in the meantime: keep on installin'.