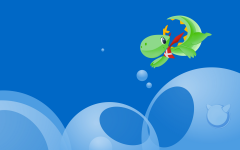 While I have been quiet on the blogging front, KDE on FreeBSD has not rested. The
unofficial ports
repository has had a whole bunch of updates:
Plasma was updated to Plasma 5.5.5 and then Plasma 5.6-beta in the plasma5-branch.
Qt 5.6 has been revived in the qt-5.6 branch. There was an earlier attempt at getting this working, which has been discarded. This time, TCB has also massaged QtWebEngine into some kind of shape.
KDE4 has had some small updates in trunk, getting newer kdelibs and newer KDevelop.
The plan is roughly this: get the KDE4 updates into the official tree because they also help pave the way to introducing Frameworks, Plasma5 and KDE Applications ports into the tree by changing up some of the infrastructure. Qt5 is already in-tree. Then KF5 can be added, which will test the waters for parallel-installing KDE4 and Frameworks on FreeBSD. And then the whole hog .. er .. dragon.
Timothée Giet was kind enough to send a Flying Konqui with BSD-bubble. I'm going to try to make that the default wallpaper with Plasma5 on FreeBSD, I think it's cute. Thanks to him for the artwork, and to Rakuco and TCB for a lot ofall of the heavy lifting in the area51 repository.