Mixed KDE Applications on FreeBSD
The KDE Frameworks have been available in FreeBSD for a while now, but we haven't seen much movement on the desktop environment or the applications front. KDE4 is still the latest you can get from ports. The plasma5/ branch in the KDE FreeBSD ports repository contains all the applications, and KDE Plasma 5 Desktop, and is very up-to-date with KDE releases -- but it's not in official ports, and that makes it a little more difficult than it needs to be to install the latest KDE Software on FreeBSD.
The KDE-FreeBSD team is starting to migrate individual applications to recently-released KF5 versions. That sometimes means letting go of some features: Plasma 5 integration isn't going to happen until we have Plasma 5 in the official ports tree. But KDevelop 5.1 is a valuable upgrade over 4.7, and the IDE suffers very little (except if you wanted the embedded konsole part).
Here's a screenshot of my KDE4 desktop running on FreeBSD, with the first few KF5 applications alongside.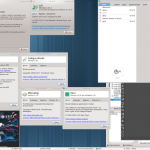 Those are Krita and Kexi and Calligra Words an KDevelop from KDE Applications 17.04.2, and a KDE4-based JuK. I haven't tested this much: they run, and I can type words into the windows and KDevelop can compile something. Krita is out of my league.
So for applications, we're coming close to a situation where they can be updated to recent releases without breaking everything at once (except for a fistful of "core" applications -- we might keep a konsole-kde4 and a kate-kde4 if there's both interest and effort put into maintaining them).
For users of the official FreeBSD ports, expect updates to trickle out for a little while yet, while we sort out things like UPDATING and finally decide on what-goes-where in the shiny new (um, I guess we still need a new branding package) KF5-based world.