This week I was briefly in Berlin for the Qt World Summit, or QtWS for short. I was there to run the KDE booth as part of the exposition at the summit, rather than to do any talks (or, for that matter, watch any). First, a bunch of thanks are in order: to Sari and Milja from Moodboard for organising most of the things, to Katica from the Qt Company for doing PR on the show floor, to Kai and Roman from KDE for standing at the booth with me, and to the 700-or-so attendees for listening to us when we talk about KDE as a community, about KDE Frameworks and Plasma in laptops, tablets, phones and embedded. Thanks also to Paul and kde-promo for getting us some nice source material for stickers and shirts.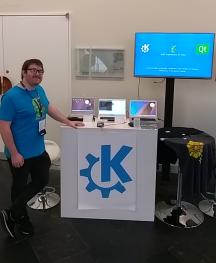 Kai at the KDE booth at QtWS flarn berp spleen
The picture shows some of the stuff we did for the booth: a canvas banner, demo machines, and happy T-shirts. If the Italians (from a Sardinian argricultural-technology firm?) who wanted a T-shirt get in touch with me, we'll make it happen.
One of the nice things about QtWS is meeting all the KDE people who have wandered away from the active KDE community, and are now inside the Qt Company, or KDAB, or all over the Qt ecosystem. KDAB, of course, gave a bunch of talks at the event and also contributes lots of code to both Qt and KDE; it's still good to actually meet old KDevelop people and such. When talking to "old hands" is the fordness with which they talk about the community and participating in such a large Open Source project.
So the things we mostly talked about were KDE Frameworks -- a fair subset of them are useful for small-footprint devices, embedded, automotive -- and that Qt is Open Source. Reminder: Qt is Open Source. And so are all the things KDE builds on top of Qt. There's a large number of very proprietary software companies around Qt in the automotive world. One really cool one does handwriting recognition, and does it well; I tested it in English, French, and Arabic with my untidy scrawl and its accuracy was pretty good. But .. no, not my cup of tea. The Pinebook got a fair amount of attention, but even more attractive to attendees was a prototype laptop that had been 3D-printed the day before. It looked like it had stepped right out of the 80s, but was running a pretty snappy Plasma desktop on top of mainline and Debian (can't say more than that for now). We installed KDE neon on my Slimbook again, alongside openSUSE, to try out Wayland, and in particular gaming with Steam under Wayland. That .. turns out to work just fine, but people look at you funny when you're playing CS:GO (please note my ambivalent and inconsistent treatment of proprietary software here) at the stand.
So, here's to the Qt community and see you next time!